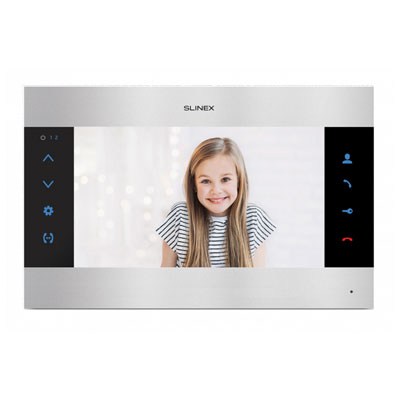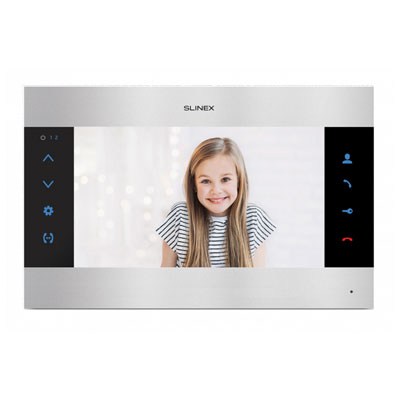 SL-10M
Intercom with the ability to record on motion when the optional motion sensor is connected
2 panels, 2 cameras
Software motion detection
10" color TFT screen 16:9
First impression
The video intercom Slinex SL-10M is a real example of style and elegance. Its glossy surface made of glass and polished aluminum will not leave you indifferent. Due to its appearance, this model favorably differs from other video intercoms.
Nevertheless, this device can boast not only with its design, but also for a wide functionality. More details about technical characteristics and functions are discussed below.
Where to use
SL-10M model is designed for the use in the rooms where the design of the device plays no less important role than its functionality. Such facilities can be private homes, company offices, or apartments.
First of all, it should be noted that the SL-10M has the software for motion detection. Even if no one presses the call button on the panel, the sensor will still detect any movement in front of the cameras and the intercom will automatically start video recording. For greater coverage of the territory, you can connect two additional CCTV cameras and two outdoor panels into one system. You do not need to supply a separate power for the connected cameras and panels; they will be powered from the intercom.
Another distinguishing feature of the SL-10M is the function to configure three call volume modes depending on the time of day. It's unlikely that you wish to be waked up by a piercing call sound at night. This device gives you an opportunity to set the quietest level of the melody for the night, louder in the morning, and the loudest in the evening to hear the call even if you have a TV on. You can select one of 12 pleasant polyphonic melodies for a call sound. In addition, you can adjust the duration of the ringtone.
The SL-10M has a slot for SD cards up to 32GB to record photos and videos.
Additionally
12 polyphonic ringtones
Unique Features
Software motion detection
"Do not disturb" mode
Three volume modes according to time
Adjustable call and conversation volume
Brightness, contrast, and saturation for each channel
Specification
Display
10" color TFT screen 16:9
Dimensions
305×190×23 mm
Screen resolution
1024×600
Outdoor panels quantity
2
Additional video cameras quantity
2
Memory
Support of SD card up to 32GB
Recording resolution video
720×288
Power consumption
Up to 12 W
Power supply
DC100-240V or AC13.5V
Intercom
SL-10IP, SL-10M, SL-07IP, SL-07M, SQ-07MT, SM-07M, SQ-04M, SM-04M, MS-04, up to 4 monitors in the intercom. Monitors SL-10IP and SL-07IP can only be main in the intercom.
Installation type
Wall mount
Colors
Silver + white
Silver + black