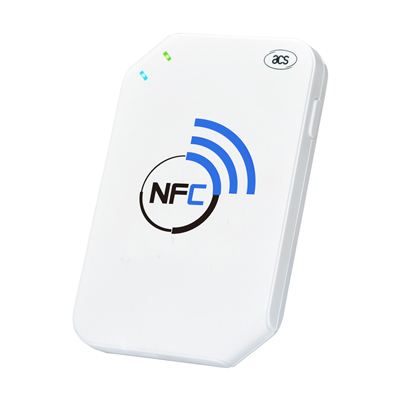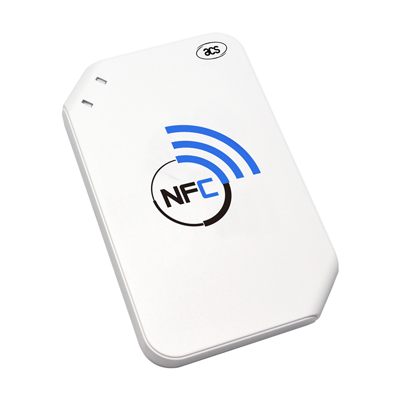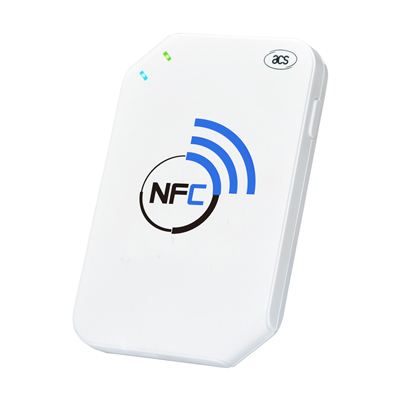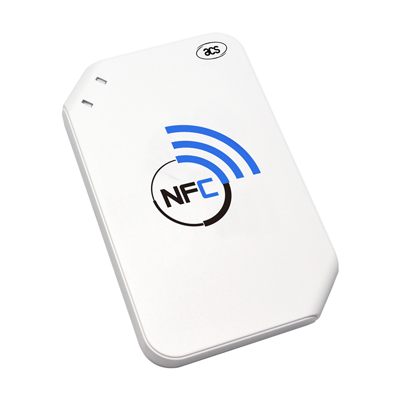 AC1255U-J1
Secure Bluetooth® NFC Reader desgined for contactless technology
ACR1255U-J1 ACS Secure Bluetooth® NFC Reader is designed to facilitate on-the-go smart card and NFC applications. It combines the latest 13.56 MHz contactless technology with Bluetooth® connectivity.
ACR1255U-J1 supports ISO 14443 Type A and B smart cards, MIFARE®, FeliCa®, and most NFC tags and devices compliant with ISO 18092 standard. This makes ACR1255U-J1 ideal for a broad range of solutions, such as hands-free verification for physical and logical access control, and inventory tracking. ACR1255U-J1 has two interfaces: Bluetooth (also known as Bluetooth Low Energy or BLE) for pairing with mobile devices, and USB Full Speed for PC-linked operation. Additionally, it can read/write at a speed of up to 424 Kbps for contactless smart card and NFC device access.
With a compact design and a rechargeable Lithium-ion battery for power, ACR1255U-J1 is extremely portable and convenient for use anytime, anywhere with most Bluetooth-enabled smartphones and tablets.
To save valuable cost and time, the firmware of ACR1255U-J1 could conveniently be upgraded on the field. This enables users to cope with the fast-changing technology for their applications, and suit different scenarios.
With Bluetooth® technology and AES-128 encyrption, ACR1255U-J1 connects securely and wirelessly to any device running on Android™ 4.3 and later, iOS 8.0 and later, Windows® 7 and later, and Mac OS® 10.7 and later.
For PC-linked operation, ACR1255U-J1 could easily be installed for use with any personal computer running on Windows® operating system because it is PC/SC and CCID-compliant. Its drivers are also compatible with Linux® and Mac OS®.
With its numerous features, the ACR1255U-J1 is the perfect reader for your smart card solution.
Should you wish to try out the demo apps for ACR1255U-J1, please download the app from Google Play and App Store.
Bluetooth® Interface
USB Full Speed Interface
Power Source:
Battery-Powered (incorporates a Litium-ion battery rechargeable through USB Mini-B port)
USB-Powered (through PC-linked mode)
CCID Compliance
Smart Card Reader:
Contactless Interface:
Read/write speed up to 424 kbps
Built-in Antenna for contactless tag access, with card reading distance of up to 60 mm (depending on tag type)
Supports ISO 14443 Type A and B cards, MIFARE, FeliCa, and all 4 types of NFC (ISO/IEC 18092) tags
Built-in anti-collision feature (only 1 tag is accessed at any time)
NFC Support
Card Reader/Writer Mode
Built-in Peripherals:
Two user-controllable bi-color LEDs
User-controllable buzzer
Application Programming Interface:
Supports PC/SC
Supports CT-API (through wrapper on top of PC/SC)
USB Firmware Upgradeability
Supports Android™ 4.3 and later
Supports iOS 8.0 and later
e-Government
Mobile Banking & Payment
e-Healthcare
Access Control
Network Security
Public Key Infrastructure
e-Purse & Loyalty
Physical Characteristics
| | |
| --- | --- |
| Weight (g) | 37.5 g (74.1 g with cable ± 5 g tolerance) |
| Dimensions (mm) | 85 mm (L) x 54 mm (W) x 10 mm (H) |
Bluetooth Interface
| | |
| --- | --- |
| Power Source | Rechargeable Lithium-ion Battery (charging through USB) |
| Protocol | Bluetooth®(Bluetooth 4.0) |
| Speed | 1 Mbps |
USB Interface
| | |
| --- | --- |
| Power Source | From USB Port |
| Protocol | USB CCID |
| Speed | USB Full Speed (12 Mbps) |
| Connector Type | USB Mini-B |
| Cable Length | 1 m, Detachable |
Contactless Smart Card Interface
Protocol
ISO 14443-4 Compliant Card, T=CL
MIFARE Classic Card, T=CL
ISO 18092, NFC Tags
FeliCa
Standard
ISO/IEC 18092 NFC, ISO 14443 Type A & B, MIFARE, FeliCa
Built-in Peripherals
| | |
| --- | --- |
| LED | 2 Bi-colors: Red and Blue, Red and Green |
| Buzzer | Monotone |
Other Features
| | |
| --- | --- |
| Encryption | In-device AES encryption algorithm |
| Firmware Upgrade | Supported |
Certifications/Compliance
Certifications/Compliance
EN 60950/IEC 60950
ISO 18092
ISO 14443
USB Full Speed
Bluetooth®
PC/SC
CCID
VCCI (Japan)
TELEC (Japan)
CE
FCC
RoHS 2
REACH
Microsoft® WHQL
Device Driver Operating System Support
Device Driver Operating System Support
Windows®
Linux®
MAC OS® 10.7 and later
Android™ 4.3 and later
iOS 8.0 and later
Get the latest downloads includes manuals, software and drivers upgrades, brochures and connection diagrams.
Download Drivers