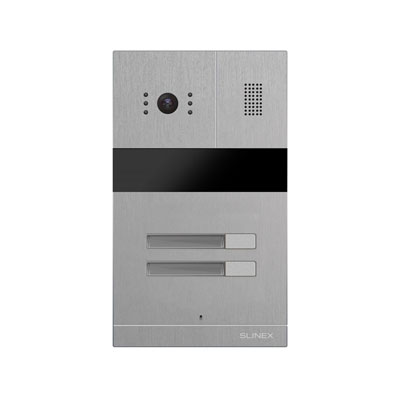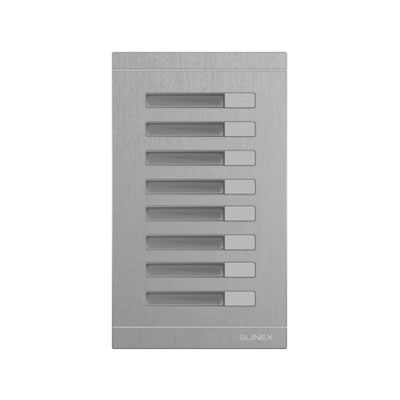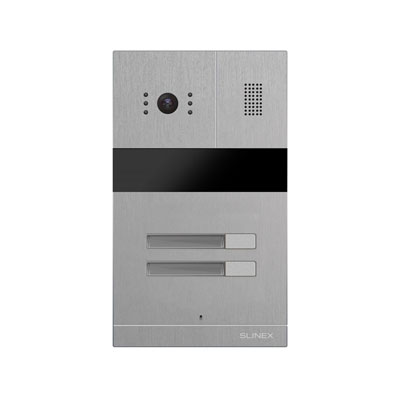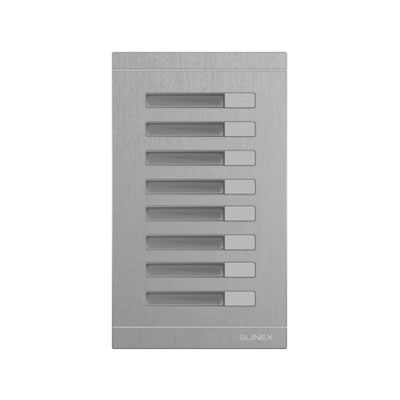 MA-02
Color CMOS camera
Built-in card reader (EM-Marin, Mifare, NFC)
Support up to 2 MA-08 extensions (18 subscribers)
First acquaintance
Slinex MA-02 is a 2 apartment outdoor panel with an ultramodern design. The panel has a lot of advantages, among them: a color CMOS camera with a resolution of 960 TVL, built-in combined reader of contactless cards from EM-Marin, Mifare/NFC, mechanical IR filter on 6 LEDs and backlit nameplates.
This panel has no equivalents in the modern market in terms of its functionality and external parameters. It far exceeds the quality of outdoor panels of other manufacturers.
Where it can be used
The device is ideal for installation in the office or in a building with a small number of apartments. This model will be a universal solution for installation on the floor of an office center which houses several offices. On special nameplates on the panel body it is possible to specify the number of an apartment, office, names of apartments or the name of the company, and thanks to backlit nameplates, all information will be clearly visible, even in the dark.
The outdoor panel can be flush mounted both outside and inside. Panel dimensions are 110x185x34 mm. The device works stably in a wide range of temperatures: from -40° to + 65°C.
The key feature is an availability of a combined reader of contactless cards from EM-Marin, Mifare/NFC for controlled and safe access to the premises. Internal memory is designed for up 248 cards.
The model is impressive with the presence of a mechanical IR filter, which provides better visibility in the dark and allows you to get a better picture, thanks to which the identification of the visitor is much easier not only in the afternoon, but also in the evening.
Additionally
Built-in card reader (EM-Marin, Mifare, NFC), supports both CVBS and AHD
Unique Features
Mechanical IR cut filter
Wide-angle lens
Nameplates backlight
Support up to 2 MA-08 extensions (18 subscribers)
Specification
| | |
| --- | --- |
| Horizontal viewing angle | 138º |
| Device type | Outdoor panel for 2 subscribers |
| Body structure | Metal alloy |
| Camera resolution | 960 TVL |
| Type of sensor | 1/4" CMOS |
| Protection class | IP65 |
| Dimensions | 110×185×34 mm |
| Cards type | EM-Marin, Mifare, and NFC |
| Power supply | +12V |
| Operating temperature | -40 – +65 °С |
| Memory capacity | 248 user cards |
| Colors | Silver |
| Night backlight | IR LED, up to 1.5 m |
| Minimal illumination | 0,01 Lux |