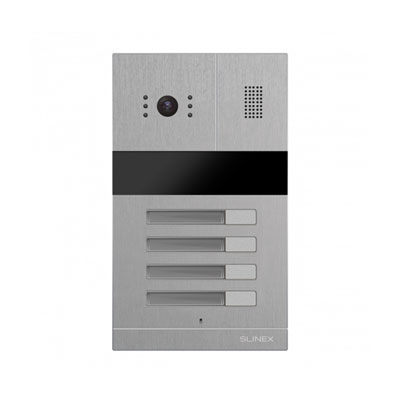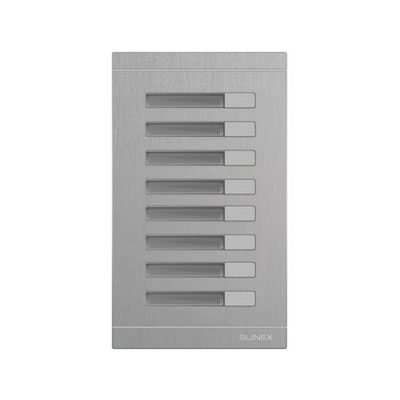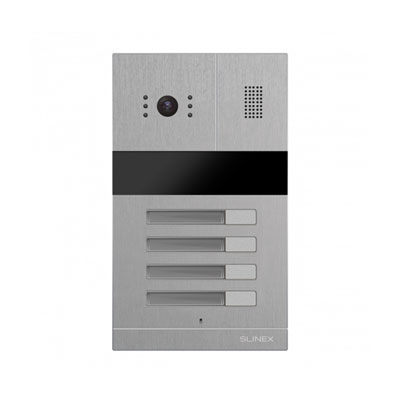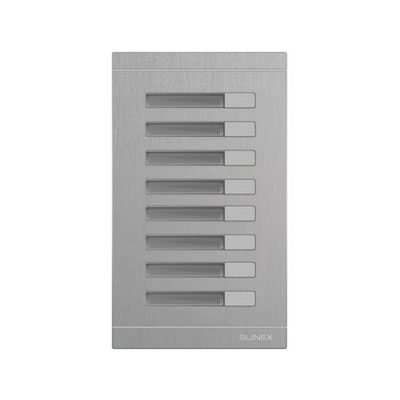 MA-04
Color CMOS camera
Built-in card reader (EM-Marin, Mifare, NFC)
Support up to 2 MA-08 extensions (20 subscribers)
First acquaintance
Slinex MA-04 is an ultramodern outdoor panel for 4 apartments.
The main advantages of this panel are the availability of a built-in combined reader of contactless cards from EM-Marin and Mifare/NFC, and a camera with a color CMOS matrix and built-in infrared backlighting. This model combines stylish design and reliable functionality in one device.
Where it can be used
The Universal outdoor panel is suitable for installation in both townhouses and office buildings with a small number of rooms. The panel will also be a quite practical solution for gated suburban complexes and cottage communities.
The outdoor panel can be installed both outside and inside the building. There are special backlit nameplates on the body of the panel on which you can specify the number of apartment or office.
The device will favorably complement the modern exterior of the room and suit users' tastes. A compact body and strict form factor allow you to install the panel onto almost any object. The dimensions of the device are 110×185×34mm.
The panel is designed to be connected to 4-wire intercoms.
The temperature mode of the panel operation is in the range from -40° to+ 65˚ C.
Additionally
Built-in card reader (EM-Marin, Mifare, NFC), supports both CVBS and AHD
Unique Features
Mechanical IR cut filter
Wide-angle lens
Nameplates backlight
Support up to 2 MA-08 extensions (20 subscribers)
Specification
| | |
| --- | --- |
| Horizontal viewing angle | 138º |
| Device type | Outdoor panel for 4 subscribers |
| Body structure | Metal alloy |
| Camera resolution | 960 TVL |
| Type of sensor | 1/4" CMOS |
| Protection class | IP65 |
| Dimensions | 110×185×34 mm |
| Cards type | EM-Marin, Mifare, and NFC |
| Power supply | +12V |
| Operating temperature | -40 – +65 °С |
| Memory capacity | 248 user cards |
| Colors | Silver |
| Night backlight | IR LED, up to 1.5 m |
| Minimal illumination | 0,01 Lux |