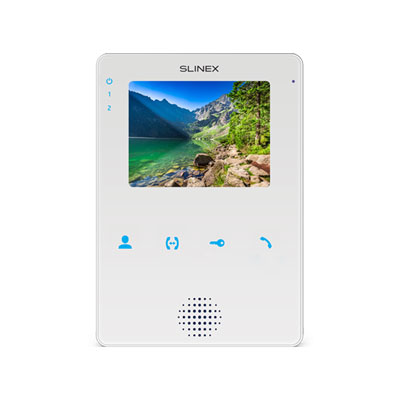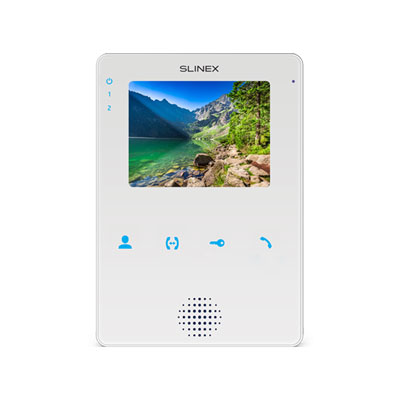 MS-04
Compact video intercom with integrated power supply
4" color TFT screen
Compact size
Touch buttons
First impression
Slinex MS-04 is a miniature color video intercom. But do not let its size and budget price to mislead you; this device has a number of interesting features and technical capabilities that will impress you. More information about its technical and functional points is provided below.
Where to use
The model will perfectly fit into the interior of your apartment or office because it will not stand out too much due to small size and classic colors (white and black). You may also use this intercom as one of the links in your intercom chain, for example, in a private house.
Firstly, you need to know that this intercom has a built-in power supply, which eliminates the headache caused by the need to hide the external power supply, especially if your repair has already finished and you do not plan to resume it. The MS-04 can be powered with standard power from the socket 100-240 V or +12 V.
Secondly, the intercom offers custom settings. You can select and set one of the provided 16 melodies as a ring call. You can adjust call duration and, of course, the volume. You can set up the intercom for varied volume, from nearly silent to very loud, depending on the time of day. It is possible to set 3 temporary volume modes.
The device is controlled by the touch buttons located below the display.
Additionally
Touch buttons
Unique Features
Compact size
Built-in power supply
Specification
Display
4" color TFT screen 4:3
Dimensions
119×168×25 mm
Additionally
Touch buttons
Screen resolution
320x240
Outdoor panels quantity
2
Additional video cameras quantity
1
Memory
No
Power consumption
Up to 7W
Power supply
DC100-240V or AC13.5V
Intercom
SL-10IP, SL-10M, SL-07IP, SL-07M, SQ-07MT, SM-07M, SQ-04M, SM-04M, MS-04, up to 4 monitors in the intercom. Monitors SL-10IP and SL-07IP can only be main in the intercom.
Installation type
Wall mount
Colors
White
Black