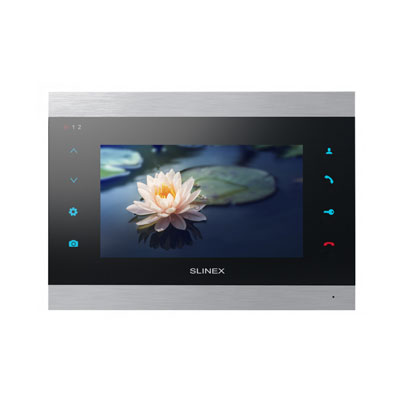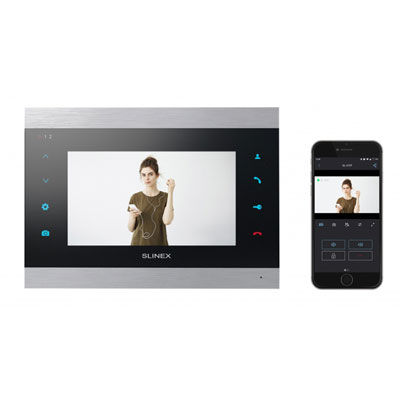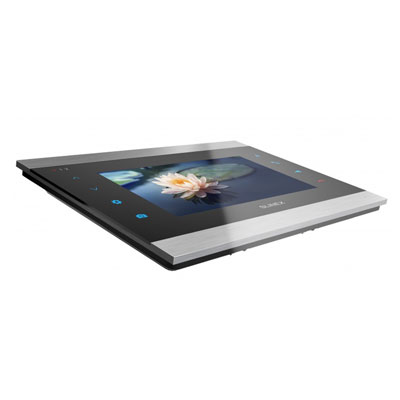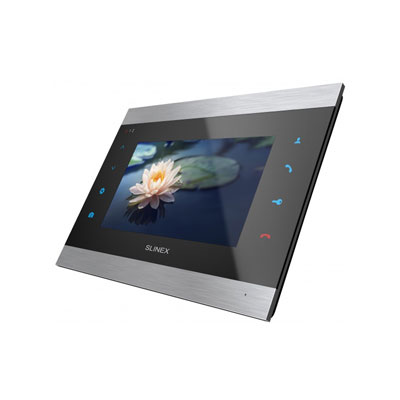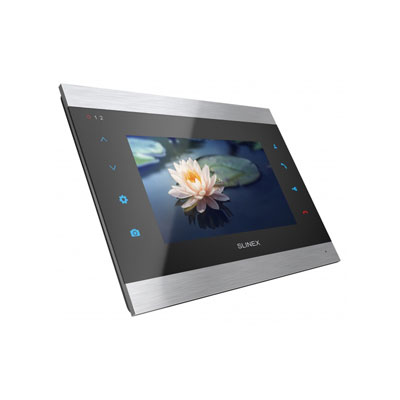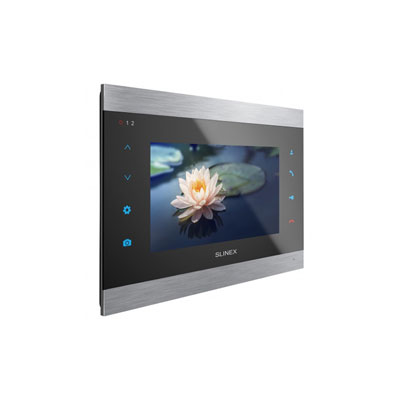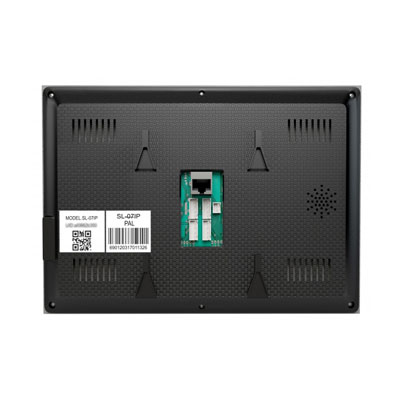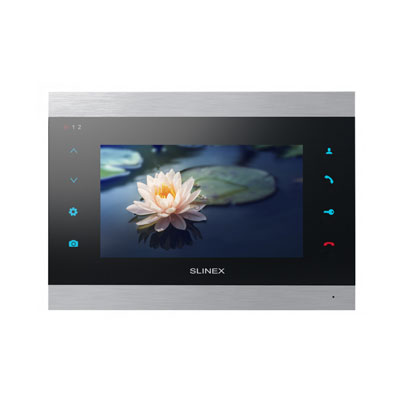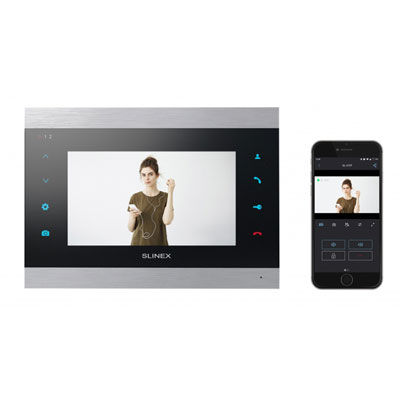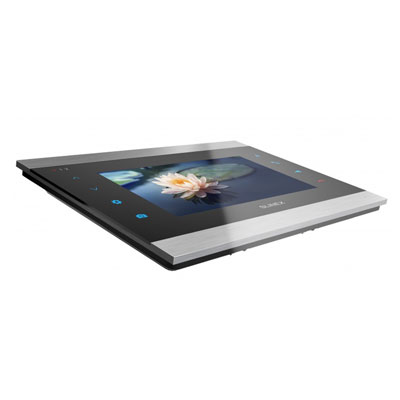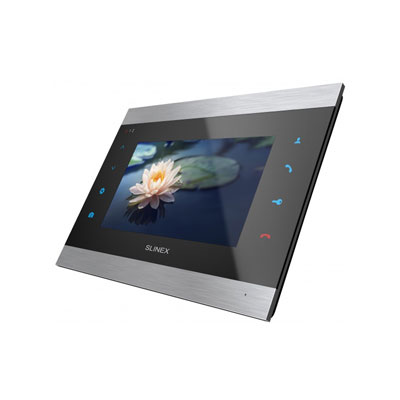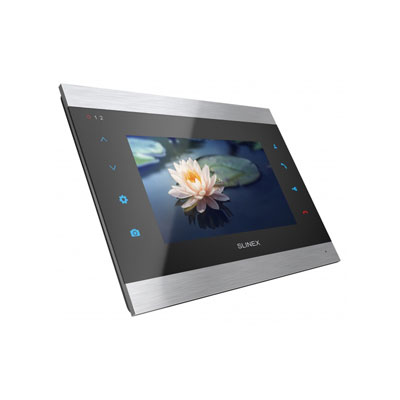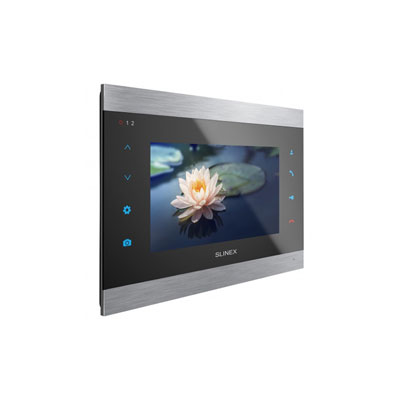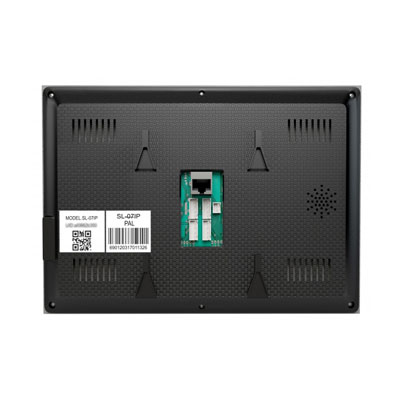 SL-07IP
Intercom with call forwarding on your smartphone, as well as management by application
7 "TFT screen
Ethernet network connection
Remote viewing of panels and stored archive
First impression
All wishes voiced by the users were taken into account during the design and development of new the intercom, Slinex SL-07IP. New useful functions were added as well.
The body is made of the flawlessly smooth aluminum and glass offered in several color solutions. The most demanding users will find they are they looking for. The device has many positive aspects that make the user experience with it as pleasant and simple as possible.
The model has a 7-inch screen for clear picture of what is happening on the street or indoors. SL-07IP is very convenient to use because it can be connected to the Internet via Wi-Fi or Ethernet and control the device through the application on your mobile phone, tablet, or a PC browser.
In addition to the standard connection via Ethernet, with SL-07IP you can do it via Wi-Fi. You can control the intercom while you are not at home, receive incoming calls, and open doors using your personal tablet or smartphone. All you need to do is to install the Slinex application that requires an Internet connection. You can also set up sending PUSH notifications or e-mails after motion detection and/or incoming calls. To configure the intercom, you need to install the application and add your device into the system in any of the three ways, namely:
scan the QR code located on the back of the intercom;
find your intercom with the help of automatic search of devices in the local network;
enter the device UID, login, and password manually.
The system allows connecting two outdoor panels or two analog video cameras simultaneously. Both panels are powered by the intercom, but cameras require a separate power supply. The SL-07IP is configured to automatically record all incoming calls. Thus, you will always be aware of who came to facility while you were away. You can view any video at any time in the archive using a PC/mobile/tablet. You can choose your own melody for each outdoor panel out of the 16 provided.
Additionally
16 polyphonic ringtones
Unique Features
Receiving a call on application on smartphone
Wi-Fi
Ethernet network connection
Remote viewing of panels and stored archive
Specification
Display
7" color TFT screen 16:9
Dimensions
230×165×22 mm
Screen resolution
800x480
Outdoor panels quantity
2
Additional video cameras quantity
2
Memory
MicroSD card, up to 32GB
Power consumption
Up to 10 W
Power supply
DC100-240V or AC13.5V
Intercom
SL-10M, SL-07M, SQ-07MT, SM-07M, SQ-04M, SM-04M, MS-04, up to 4 monitors in the intercom. Monitor SL-07IP can only be main in the intercom.
Installation type
Wall mount
Colors
Silver + white
Silver + black