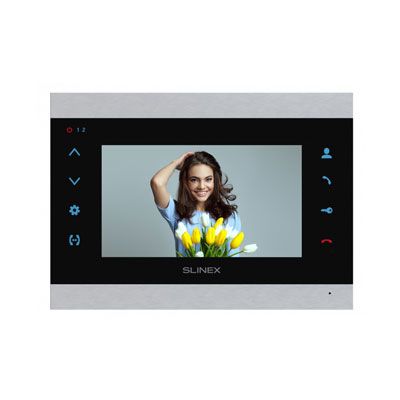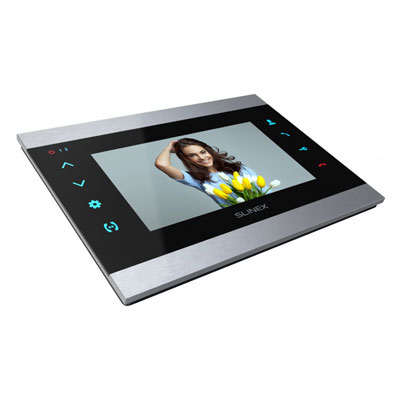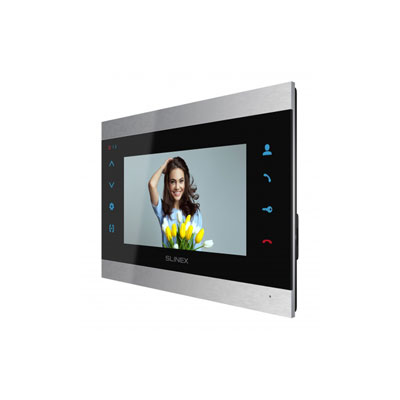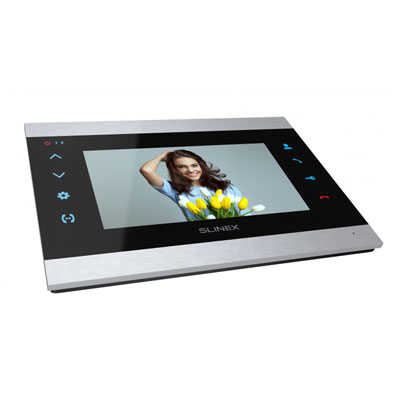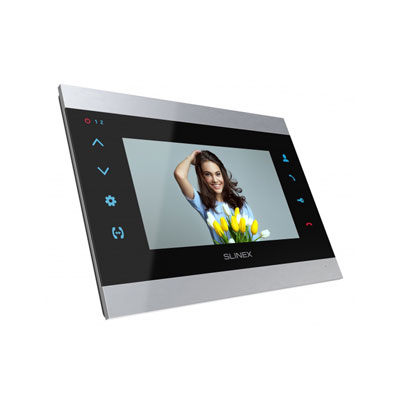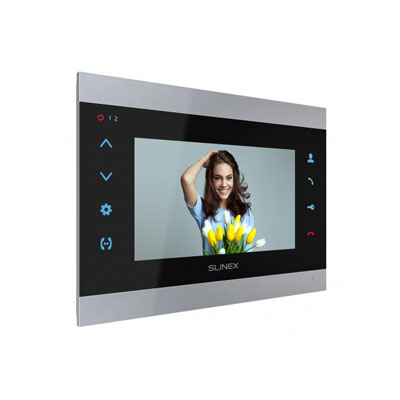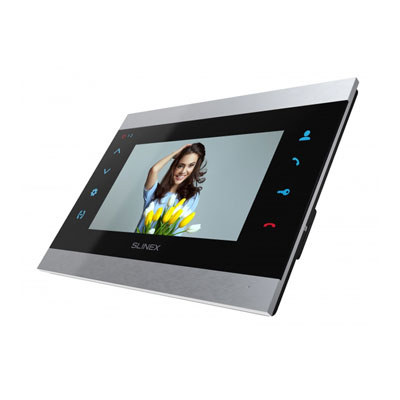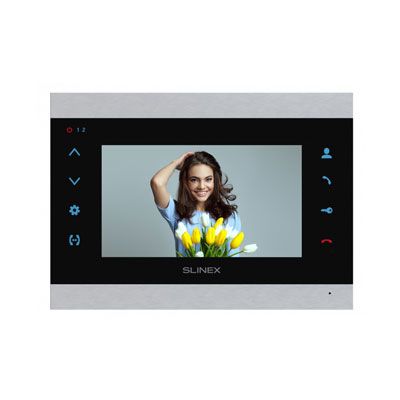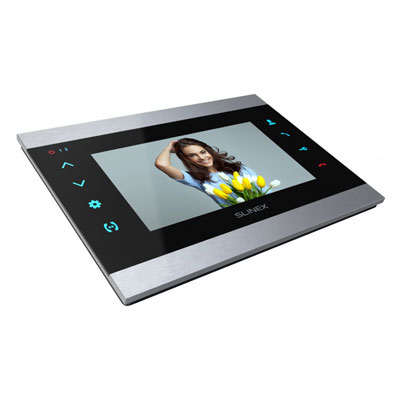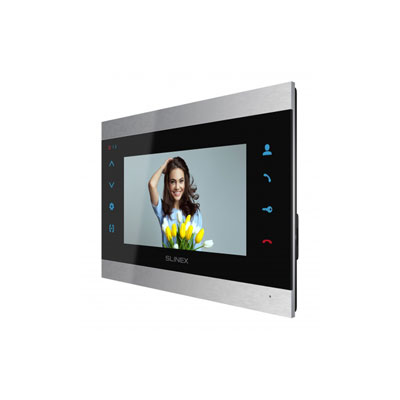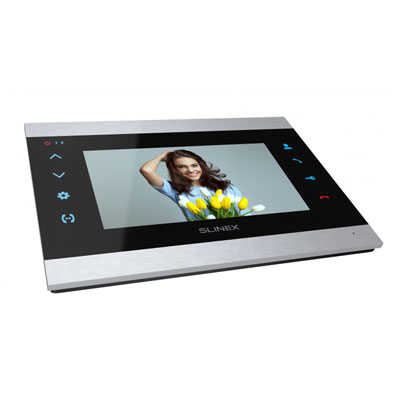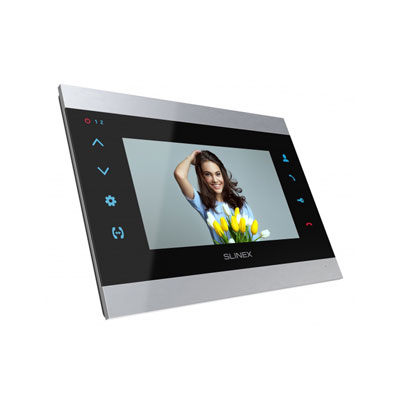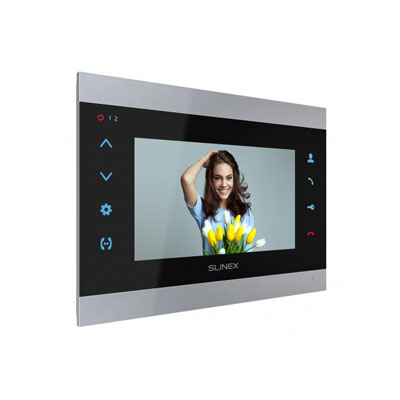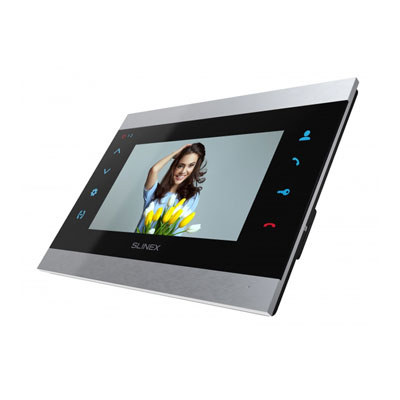 SL-07M
Intercom with ultra-thin body and a built-in power supply
Software motion detection
Individual melody of call for each panel
"Do not disturb" mode
First impression
Slinex SL-07M is a more advanced model of the SL-07. The main difference from the previous intercom is the addition of the slot for an external memory card. This intercom belongs to the SL design line distinguished by the unique appearance. Smooth, polished aluminum and glossy glass will leave no one indifferent.
In addition to its appealing design, the intercom features the wide range of functionality, including software motion detection, Do Not Disturb mode, the clock displaying in the standby mode, disabling the intercom buttons illumination, and mute the confirmation sound of the buttons.
Where to use
The video intercom SL-07M is an ideal solution for apartments, offices of reputable companies that care about every detail, as well as for private houses. With the help of this intercom, it is possible to build a real security and intercom system. The main features of the model
An important feature of the SL-07M model is the built-it motion detection software. The recording begins not only after pressing the call button or manually, but also by detecting motion. This function is very convenient as you do not need to clog the device's memory in case of a permanent video recording. It will help a lot if an unexpected visitor appears at the territory.
SL-07M's uniqueness is not limited to just one feature of motion detection; there are a lot of other interesting things. For example, an external memory, a micro SD card (up to 32 GB), in addition to the internal (for up to 100 frames) expands functionality of the device. It allows for more space to record photos and video of your visitors.
For the convenience of users, the OSD menu is provided in the SL-07M model, where the user can customized a variety of settings, such as Do Not Disturb mode, turn on/off the clock in the standby mode, turn on/off the backlighting of the intercom buttons, mute the confirmation sound of the buttons pressing, and others.
You can choose one of 12 polyphonic melodies and set it as a call ringtone. In addition, you can set three sound modes for different times of the day. For example, choose a quieter mode for the morning, loud for the evening, and almost noiseless for the night. You can also adjust the display settings: brightness, contrast, and color saturation of the image for each of the connected cameras. The door opening time is adjusted for each outdoor panel separately.
Additionally
Adjustable brightness, contrast, and saturation for each channel separately
Unique Features
Software motion detection
"Do not disturb" mode
Individual melody of call for each panel
Adjustable time of opening the door for each panel
Specification
Display
7" color TFT screen 16:9
Dimensions
230×165×22 mm
Screen resolution
800x480
Outdoor panels quantity
2
Additional video cameras quantity
2
Memory
Support of microSD card up to 32GB
Recording resolution video
720х288
Power consumption
Up to 12W
Power supply
DC100-240V or AC13.5V
Intercom
SL-10IP, SL-10M, SL-07IP, SL-07M, SQ-07MT, SM-07M, SQ-04M, SM-04M, MS-04, up to 4 monitors in the intercom. Monitors SL-10IP and SL-07IP can only be main in the intercom.
Installation type
Wall mount
Colors
Silver + white
Silver + black